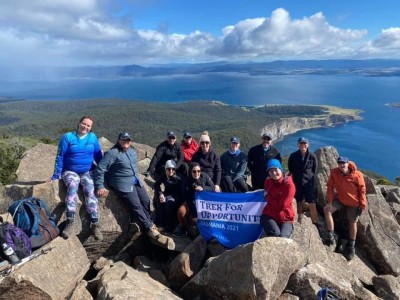 The Mater Dei Trek for Opportunity is a fundraising initiative from the Mater Dei Foundation. The Trek for Opportunity invites those up for a physical challenge to travel to beautiful Australian (and New Zealand!) locations for an active adventure to raise funds and awareness for Mater Dei.
In 2023, the Mater Dei Trek for Opportunity will see our trekkers travel 'across the ditch' to explore the breathtaking and picturesque Southern Alps of New Zealand. This stunning tour includes mountain peaks, remote lakes and valley systems and spectacular views of Aoraki Mount Cook and Mount Aspiring from high vantage points. This 7-day trip has been designed for trekkers to meet their hiking potential, whilst enjoying amazing scenery, quality meals and comfortable lodgings at the end of every day.
All funds raised go towards the NextPath Continuous Learning program, providing opportunities for young adults with an intellectual disability to be supported in ongoing learning, working towards achieving their individual goals.
The first Mater Dei Trek for Opportunity in 2019 challenged participants across the spectacular Larapinta Trail in the Northern Territory. In 2021, the scenic and breathtaking East Coast of Tasmania was the chosen location, and our Trekkers cycled, kayaked and hiked their way through some of the most picturesque landscapes in Australia.
For more information or if you would like to be involved in the Mater Dei Trek for Opportunity to New Zealand in 2023, please email Sarah Ryan at
sarahr@materdei.org.au

or call 02 4654 8708.
Please click the button below to view the 2023 Mater Dei Trek for Opportunity to New Zealand Info Sheet.
View the 2023 Trek for Opportunity Info Sheet
For more information and to Register: