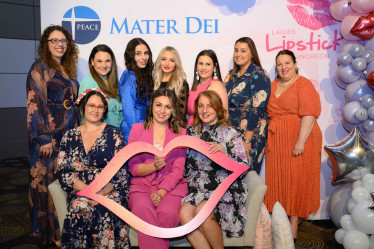 The Ladies Lipstick Luncheon is held on the Friday before Mother's Day each year. About 600 ladies (and gentlemen!) come together at The Cube to conclude their workweek with a delicious lunch, surprise special guest entertainment and performances by our students and Young Adults. It's a great social event for an even greater cause that never fails to bring our local community of dynamic women together.
The Ladies Lipstick Luncheon has a very enthusiastic committee, led by Rebekah Gates and including Anne Adam, Pina Nasso, Sarita Viler, Karina Rauch, Donna O'Neill, Anna Younan, Alison McManus and Sarah Ryan.
For more information or if you would like to be involved in the Luncheon, email Sarah Ryan at sarahr@materdei.org.au or call 02 4655 7481.
More information on how to become a Sponsor of the Mater Dei Ladies Lipstick Luncheon will be available soon.
Ladies Lipstick Luncheon 2022 Gallery