Welcome to Mater Dei Fresh Food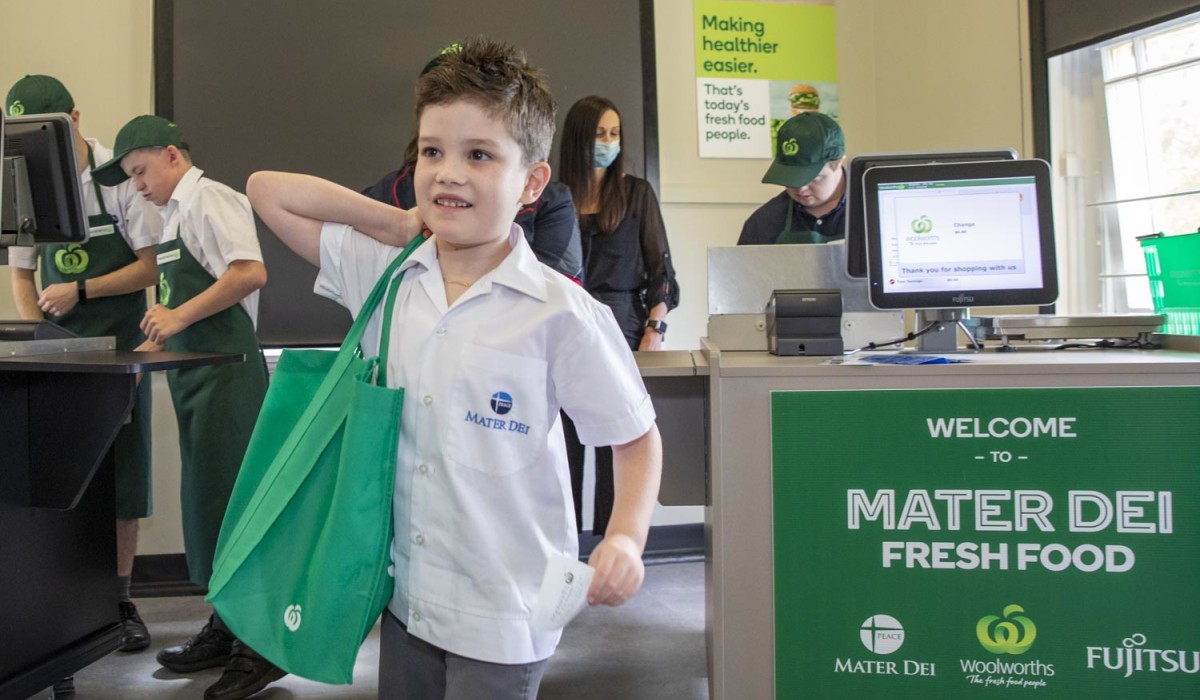 In March, with the support of Woolworths and Fujitsu, Mater Dei launched 'Mater Dei Fresh Food' (MDFF), a fully-functioning mini Woolworths store onsite at Mater Dei School. Affectionately named by our students, Mater Dei Fresh Food has been established to mimic the operations of an actual Woolworths supermarket, with baskets for fresh food, shelving for groceries, ticketing, signage, fully operational Fujitsu registers and Woolworths branded uniforms the students and young adults can wear – creating a fully immersive experience.
For the big launch, Mater Dei School students, along with Young Adults from NextPath Continuous Learning, ran a dedicated assembly in front of State MP for Camden, Mr. Peter Sidgreaves MP, Woolworths and Fujitsu VIPs, Media, Mater Dei Staff and their peers. They also helped to showcase the Store, becoming the first official 'Employees' and 'Customers' at Mater Dei Fresh Food.
It's the sixth mini–supermarket of its kind in Australia, and the first to be launched in Sydney's South West. It's also the first to feature a wheelchair–accessible register, in order to meet the needs of our students and young adults.
This is a significant achievement for Mater Dei, and we are very excited for the opportunities it will deliver for our students and Young Adults for years to come. Follow Mater Dei's social media channels to see how Mater Dei Fresh Food came to life, and how the store is being used across our programs.
We gratefully acknowledge the support of Woolworths and Fujitsu – without them, all this would not have been possible.